CZECH AUTO SECTOR SEEKS TAKE-OFF ON INDIAN MARKET
Major Czech auto industry players are turning their attention to India, the daily Hospodářské noviny reported on Tuesday. The car industry in India has been growing at a record pace and the government there wants to triple car production by the year 2026.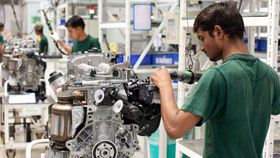 Photo: Škoda AutoThe Czech carmaker Škoda, owned by Germany's Volkswagen group, plans to invest one billion euros in India, while Czech truck producer Tatra trucks is currently in negotiations for delivering undercarriages for Indian army vehicles.
"By the year 2020, India is expected to become the fourth largest auto market after China, Japan and the US," Tomáš Rousek of Czech Trade Agency's Indian branch told the daily, adding that the presence of Czech car producers and car components manufacturers in India is inevitable.
Škoda Auto, which is has already been operating in the country, supplied 17,400 cars to customers on the Indian market last year, which was a year-on-year increase of almost a third.
The carmaker plans to invest about one billion euros in the country. Moreover, Škoda Auto has been selected by the management of parent company Volkswagen to create a strategy for entering the Indian market. Within the next three years, the Volkswagen group wants to increase its production to around 300,000 cars a year.
Meanwhile, the Czech-based truck producer Tatra Trucks is negotiating with Indian state company Beml over the delivery of undercarriages for India's army vehicles.
According to the Czech Trade agency, it is now ideal time for Czech companies to enter the Indian market. However most of the Czech companies have not used the opportunity, Tomáš Rousek told Hospodářské noviny.